A perfect WordPress website starts with a good hosting infrastructure as its foundation.
Good hosting makes your WordPress website more reliable, more secure, and load more faster.
For anyone who's just getting started with WordPress, these are some of the common questions in their mind:
"Where should I host my WordPress website?"
"There are so many choices out there! Which one should I choose?"
"Which one is the best for my WordPress website?"
In almost all cases, the search started at Google.
Well – believe it or not, this is the beginning of an expensive journey.
If you go to Google, and type in "best WordPress hosting".
You would see a few ads from hosting companies, followed by various websites reviewing some of the best hosting available in the market.

If you open up some of these websites, and read the review: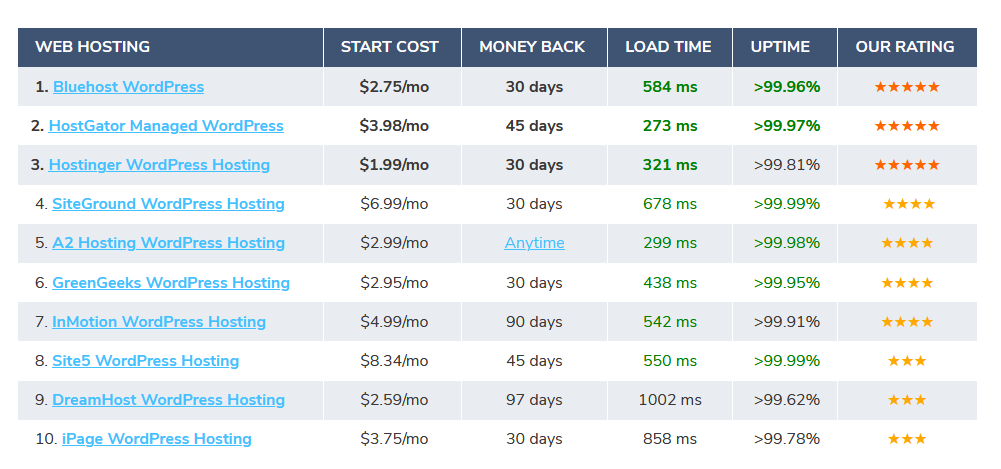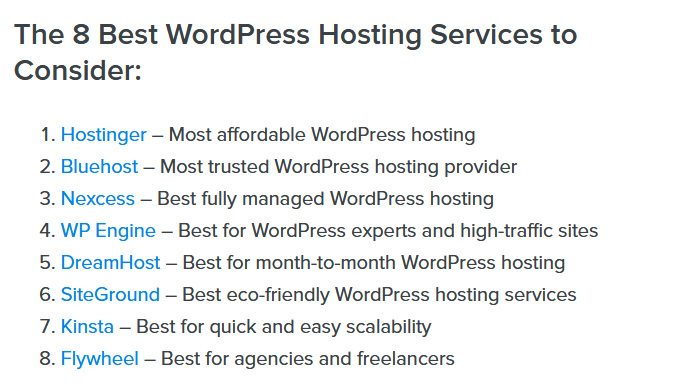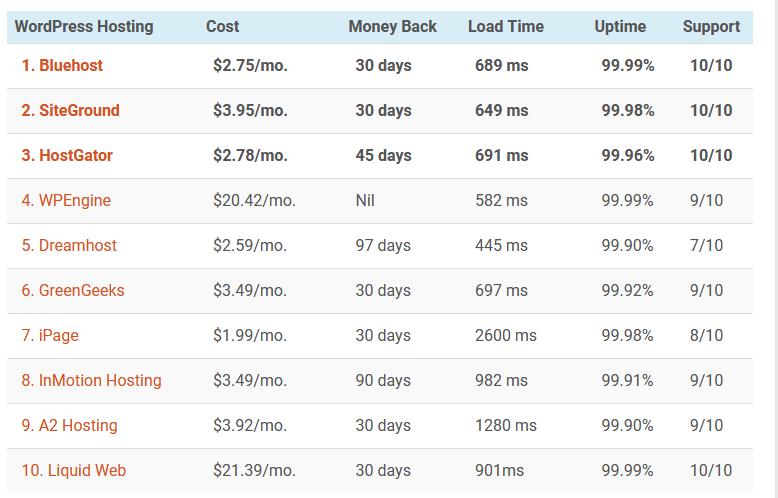 At first glance, it seems that there are several cheap & reliable "WordPress Hosting" you can choose from.
But, if you look closer, you would notice one common pattern:
Their list are almost identical!
Does this mean everyone has the same opinion on which hosting is the best?
And these hosting companies are really the best of the best?
Well – far from it.
Problem #1: The Ugly Truth about WordPress Hosting Reviews
These recommendations are not always "reliable" and definitely not "cheap".
You see – most of these recommended hosting companies have an affiliate program.
An affiliate program makes it easy for anyone to earn a commission through recommending their products (in this case, WordPress hosting).
If you visited one of these review websites, click on the "Bluehost" link in the list, and end up buying a hosting pack from Bluehost, the website owner will be incentivized by Bluehost on your purchase.
Essentially, affiliate marketing is the equivalent of a sponsored advertisement.
With that in mind, what do you think about the authenticity of these reviews?
When the writer writes those reviews, whose interests do they have in mind? The reader? Or, their affiliate commissions?
Bluehost is probably the top 3 worst hosting companies in the industry.
Yet, you could see the Bluehost name popping up in almost all the recommendations list.
Do you know why those reviewers still recommend Bluehost despite the huge amount of bad reviews from actual customers?
Here's why:

Unfortunately, a high affiliate commission has corrupted most WordPress hosting recommendations.
They no longer write the review based on the interests of the reader, but the interests of their own pocket.
When money is involved, these hosting recommendations are no longer a reliable trustworthy source.
In fact, some of these reviewers have never hosted their websites in those companies (they are recommended) before.
Another common denominator among these reviews is – almost all of them recommend "Shared Hosting".
Problem #2: Shared Hosting is just BAD!!!!!
If this is your first time building your own WordPress website, shared hosting might seems like a viable solution – especially if you are trying to keep your costs down – since most shared hosting only costs you around $3- $5 per month.
(spoiler alert: this is just a marketing ploy used by hosting companies to get you through their *funnel*. The true cost is way pricier than that. More about this later on).
However, shared hosting has its limitations, and comes with a lot of caveat.
Why Shared Hosting Is Cheap
Shared hosting is cheap because you are sharing the server's resources with hundreds (and sometimes even thousands) of other websites.
Ideally, hosting companies should allocate their resources evenly to avoid overloading their servers, and to guarantee better all-around performance.
Unfortunately, because of the low entry price, hosting companies tend to oversell their hosting packages, sacrificing quality for quantity, to make up for their server costs and the money they used to pay affiliates.
At the end of the day, it's the customers that suffer the most.
The Limited "Unlimited"
Some hosting companies offer unlimited hosting packages at super cheap prices.
The promise of unlimited bandwidth, unlimited storage space, and unlimited domains, at a fixed low cost, looks enticing, but often is just a marketing strategy.
"Not everything glitters is gold"
Unlimited shared hosting are just too good to be true.
Don't believe me?
Just read the BlueHost's User Agreement, and look for item #17A (Resources Usage > Shared Hosting).
Once your website starts getting popular, and you start using more server resources, you will be asked to make an upgrade and it won't be free.
It is also possible that a hosting company suspends your account if you are using more than the resources that were included in your package.
All it takes is a couple of media files, such as videos and you may find your website shut down without prior notice because you've exceeded the "Unlimited" storage space included in your plan.
Apparently, there is a limit to "Unlimited".
Slow Load Time & Overusing Server Resources
Since shared hosting implies many websites are operating on the same server, then whatever is going on with other websites on your shared server will affect the overall performance of your website.
All you need is one other website with a lot of traffic, and other websites on the same server, including yours, will slow down dramatically.
This problem often arises from the immoderate and/or disproportionate allocation of server resources by the hosting companies.
Your website speaks for your business and your credibility. A malfunctioning website is enough to damage your business and reputation.
This is enough to turn your existing customers and prospects away.
Needless to say, it will be difficult to get a professional, high-performing website up and running with a cheap hosting plan.
Vulnerable To Security Issues & Bad Neighbors
Although your website has its own individual domain and unique content, but, with shared hosting, your files will still be in a single directory along with other websites on the same server.
This means that your website security is, by default, linked to all the other websites on the server.
If the main directory is hacked, all the websites on that server can be hacked.
Not to mention, choosing a shared hosting is like choosing to share a small apartment with numerous people you don't know.
You never know who your neighbors are on a shared server and their bad habits could turn into your problem, posing serious threats to your website.
If one website on that server has made itself vulnerable, then your site is also in danger of being hacked.
Security is a serious matter when it comes to online data.
Unfortunately, shared hosting is often not well equipped to handle these sorts of security threats, and this is something you don't want to skimp on.
Misleading Pricing Strategy
At the point of writing, WordPress powered over 40% of the web – meaning that there is a lot of money to be made for hosting companies in offering web hosting for WordPress websites.
In fact, it's so competitive that web hosting companies willing to lose money to acquire new customers.
To you, shared hosting only costs around $3- $5 per month.
But, web hosting companies, had to spend a lot, from maintaining the servers to hiring technical experts to ensure everything is in order.
So, for them to make profits, their customer base had to be big. Otherwise, they will have to close up shop really fast.
This is also why they are so aggressive in advertising their services online and offline.
Most of the companies that offer shared hosting services use the "Introductory pricing strategy" (Discounted price for new customers and charge full price for renewal).
It gave you the perception that most shared hosting only costs around $3- $5 per month.
But, the truth is:- that's just for the first billing AKA "New Customer Price".
Once your first term expired, you'll be charged for the full price – usually 2x -3x of what you pay in first billing.
Here are some examples of sharing hosting Introductory price vs renewal price: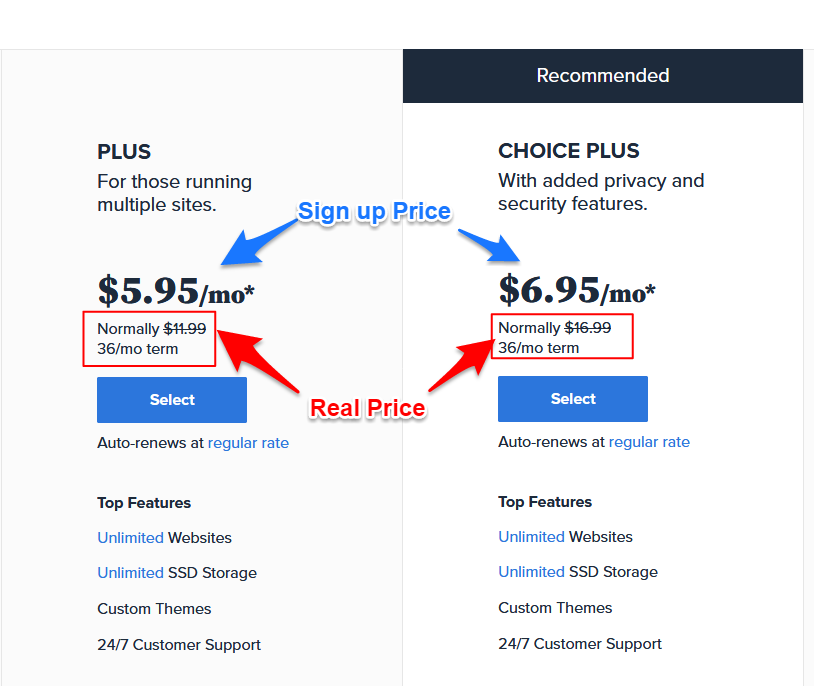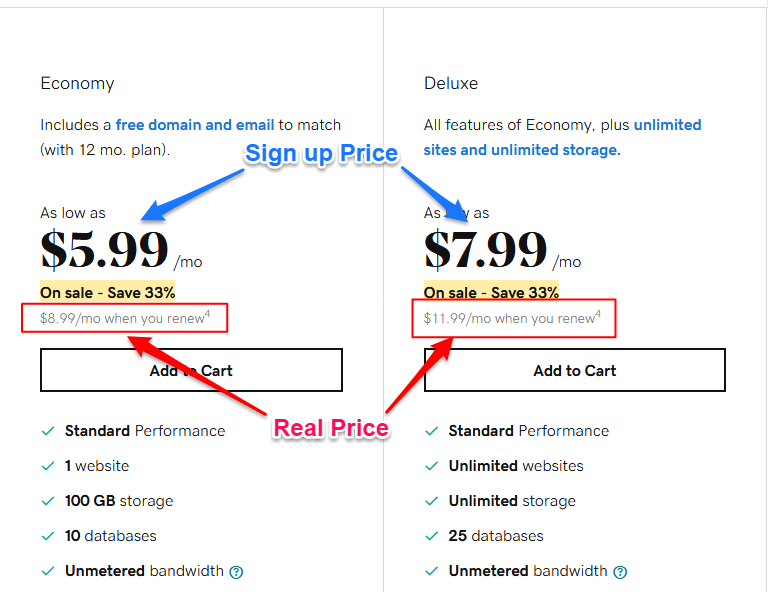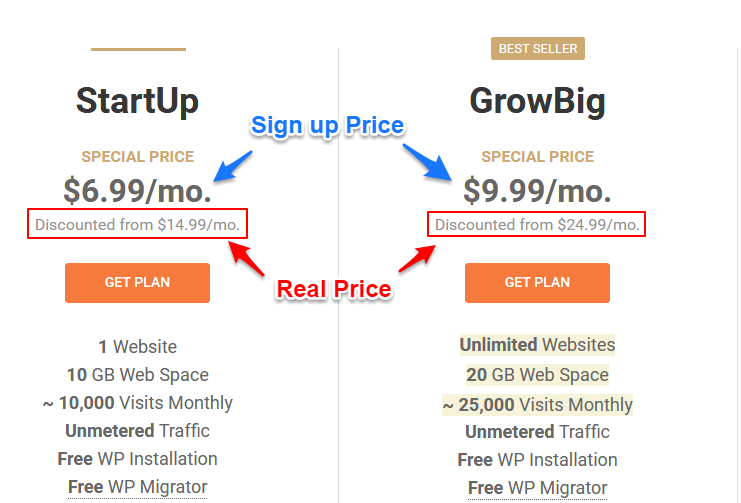 At the end of the day, Shared Hosting is only cheap if you're a new customer.
Other than that, it's really not worth the hassle – consider the other problems that come together with Shared Hosting.
What about Dedicated Hosting, VPS, and Cloud Hosting?
Dedicated Hosting
Dedicated Hosting is very reliable ,fast and secure.
Unlike Shared Hosting (in which you had to share the server's resources with thousands of other websites), all the resources in Dedicated Hosting (as the name implied) are dedicated to you and you only.
You'll have full access to the server, which means you can do whatever you want, however you want with it.
However, getting a whole server for yourself means you'll have to pay the cost of renting a whole server (which is pretty expensive), and you're also responsible for server maintenance, and security setup.
Unless you're running an enterprise-level application, and have a team of DevOps engineers supporting your dedicated server, there is really no reason to get dedicated hosting for your WordPress website.
VPS (Virtual Private Servers)
With VPS hosting, one physical server is shared between multiple users, and each user gets a specified set of resources.
Unlike shared hosting. VPS hosting offers a dedicated virtual partition for each user.
This guarantees resources are always available to you when you need them.
If Shared Hosting is like sharing a small apartment with numerous unknown people, a VPS partition is like having your own flat, where you have all the amenities you need, without the need to share it with anyone else.
So, you don't run the risk of your website's performance being affected by other websites' traffic and bad habits.
In general, VPS is far more reliable, secure and faster than shared hosting.
However, VPS is still pretty expensive for hosting a WordPress website ($20 – $100 / month).
Plus, a VPS hosted WordPress website will require a little more technical know-how in server management on your part.
Cloud Hosting
Cloud Hosting is quite similar to VPS, except instead of just one server, it's a network of servers working together to serve multiple websites at the same time.
One of the major weaknesses of VPS is despite its virtual partition to allows its resources not to be shared among the users, it still resides in one physical server.
This means if one of the partitions is crashed, or being attacked by DDoS (Distributed Denial of Service), and cause the whole server to go offline, all the other partitions, subsequently all the applications hosted under that server will go offline as well.
However, with Cloud Hosting, if one server goes offline, there will be another server ready to replace the failed server to make sure there is no downtime to any applications or websites hosted under the network.
This is why Cloud Hosting companies can guarantee 99.99% uptime.
Still don't get it?
Here's an explanation of Cloud Hosting in plain English:
Because of the way it is set up, Cloud Hosting is super reliable, fast, secure, and highly scalable.
Not to mention, it's not as expensive as Dedicated Hosting or VPS.
The lowest tier is only $5 per month.
Just to give you some context – the lowest tier cloud server can host at least 4 WordPress websites under the same roof without causing any downtime, or server-related issues.
Furthermore, most Cloud Hosting providers use the Pay-As-You-Go pricing modal, meaning that you only pay for what you use.
This is particularly useful especially when you're about to anticipate high traffic during sales.
You can upgrade your cloud server at will to anticipate high traffics, and downgrade your cloud server once the sales are over.
No contract, or unnecessary long billing process needed.
With this pricing modal, you don't have to invest in resources you don't need, and only upgrade when you need it, and downgrade when you don't.
But, similar to VPS, Cloud Hosting requires the technical know-how to be able to operate it successfully.
If you're not a technical person and don't have knowledge in DevOps, Cloud Hosting can be a challenge for you – as there is some learning curve for you to understand how to deploy a cloud server properly.
Which One to Choose?
Short answer: Managed Cloud Hosting.
Long answer:-
Whether it's shared, dedicated, VPS, or cloud, all of them have their own pros and cons.
However, when it comes to hosting WordPress websites, I believe Managed Cloud Hosting is the answer.
As I have mentioned above, Cloud Hosting requires a lot of learning curve, and it wasn't easy to set up (even for savvy developers).
But, with Managed Cloud Hosting, there will be a team of people ready to help you with all the nitty-gritty in deploying a cloud server.
From performance optimization to security setup, everything is taken care of without you lifting a finger.
In fact, whenever there are abnormalities or security flaws detected, the engineering team will fix and patch it without you realizing it.
This is great for companies or businesses that don't have an IT department or don't have a dedicated person in server management.
If you want a stress-free hosting experience, and more time focusing on growing your business, then Managed Cloud Hosting is your best bet.
No more spending countless hours learning how to manage your own server.
In the next part of this series, we'll take a look at one of the best (if not THE best) Managed Cloud Hosting Platforms: Cloudways, and why they are your best option in hosting your WordPress website.